Meh, I really feel like a DRG (at least a DRG of the old past times, when nobody wanted them except me lol) waiting for party for hours.


Yesterday I couldn't exp at all, so I made some missons, quests, a little boring besieged with BRD, but I mainly was LFP for Dancer because I would like to finish it as soon as possible.
Finally an invite arrived but after 1 hr I was kicked out by my ISP and the the flat had a massive blackout. Very funny.
I went logged in again and I was obviosly replaced... But a miracle happened: I got an invite and I WASN'T lfp.
I think I almost cried, since that reminded me the nice (and not so distant) days of mad brd exp.
So we were exping and doing our good work and suddenly a GM popped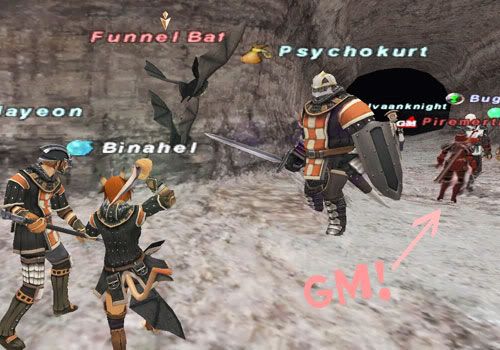 No idea for what or for who, she was just there talking with whoever called her ( I suppose)...
and that's all... because after that the party disbanded soon and I just hit 47 with no hope to reach 48 or better 49 for today.
I'm speaking only of exp. It's kinda boring. Expecially becasue I'm not a really exp person lol. But Dancer is such an awesome and interesting job that I want to have it 70+ as soon as I can.
So forgive me! I will start to speak of something interesting very soon, believe me!



Now it's time for a bit of spam:
go to visit Gracie!
he's a very cute and funny Tarutaru and I do like a lot how he write (I think english it's his main language, lucky him) bacause he makes me always smile.



Blogged with Flock